Manufacturing & Logistics
Cost & performance software for manufacturing & logistics companies worldwide
Our clients (40 and counting) in these markets use CostPerform for operational cost and capacity management, variance analysis, contract management, cost-to-serve and other purposes.
Talking about logistics, CostPerform helps a lot of postal services all over the world. For example, Botswana's Postal Service use the software to keep track of individual post office performance. In the United States the logistic center of the US-based postal services use CostPerform to calculate and monitor the Service Level Agreement rates to other divisions and departments.
Manufacturing process for American Red Cross
The American Red Cross made a supply chain model with CostPerform that models the complex manu manufacturing process of the primary Agency that runs over 52 percent of the nation's blood supply. Each blood component and type (A+, O, B) is modeled uniquely, and corresponding indirect and direct costs are accurately associated with the blood manufacturing processes (marketing, donation, distribution, transportation, storage, and sales). Guiding the rollout of the American Red Cross, 36 regional models that are used to manage blood manufacturing and servicing costs and non-financial performance metrics. These regional models will be used to manage the manufacturing process and for performance improvement (consolidation, technology, etc), and two choose financial and non-financial metrics.
Cost management solutions for Manufacturing and Logistics
CostPerform found solutions for an Italian-based production company manufactures innovative, high-end sports guns. In 2008 they were looking for a replacement for their old costing system. CostPerform was the only tool able to handle their cost model as well as their interface automation requirements. A Dutch-based food wholesale and logistics company uses CostPerform to get an operational grip on product group profitability. With over 10,000 products that need to be delivered quickly and efficiently, logistical performance is under constant scrutiny.
How CostPerform helps


manufacturing & logistics companies
Create models to manage and improve your manufacturing process
Make your cost and performance visible throughout our software and reports
Design your own costing method, no matter how complex this is
Postal Services can track each and every package they send
CostPerform client examples in manufacturing and logistics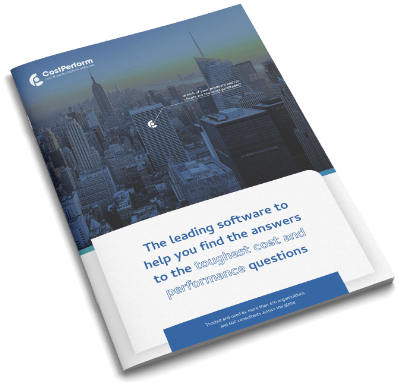 Discover what CostPerform can do for your organization
[gravityform id=19 field_values="resource_id=8340&resource_redirect=https://www.costperform.com/downloads-thank-you?resource_id=8340" title=false description=false ajax=true tabindex=49]