Cost & performance software for finance companies worldwide
From insurance companies and merchant banks to central banks: CostPerform is used by financial institutions to determine profitability, report to regulators and to simulate future business models.
A private bank with several branches in Europe and Asia selected CostPerform in order to calculate customer margin. In 2009, the bank started to specify their required ABC model. The bank understood that many activities depend on other activities. Our software was selected because of the ultimate flexibility, and the ability to handle activity to activity cause and effect relationships. The final cost model provides a precise income-cost-margin analysis model. Each month the bank updates the cost model (automatically) and reports margin on several levels of detail, for example: per customer, per sales manager, or per client group.
Several cost models for new financial insights
One of Europe's main system banks "Strategy & Architecture department" decided to use CostPerform to simulate strategic improvement initiatives in several branches of the bank. In cooperation with their internal client, the Strategy & Architecture modelled many processes to products in order to get a clear understanding of cause and effect within those processes. Based on these models, the S&A department could simulate and advice on proposed process improvement initiatives and find new improvement areas. In the future, CostPerform will be deployed as the group-wide cost modelling software within the Group and divisional CFO decision support communities.
One of Vietnam's four main banks adopted CostPerform in 2013. The goals were to deliver a cost model to the CFO that shows detailed and as precise as possible cost information. The bank very kept to adapt to Europe's ABC cost accounting principles. After a couple of months building and collecting data the model was ready and in use to analyze improvement potentials. The bank got the support of a consulting firm and run CostPerform on their own.
A merchant bank in Europe has developed and implemented a cost allocation model primarily for justifying charges to third parties as well as providing a reliable and accurate basis for invoicing the cost to third parties. The costing model also provides department managers with information relevant to the management of costs and resources. The design and the implementation of the costing model have changed several times in the last 10 years in response to specific objectives.
Experience what the flexibility can improve
A Dutch-based health insurance company uses CostPerform to monitor and reduce the costs of their insurance policies handling the process. Every period they determine profit and loss per policy and base their long-run strategy partly on the information coming out of CostPerform. A Dutch-based pension fund processor uses CostPerform to quote and forecast the effects of new business on their current performance. This company was able to quickly modify their IT-system to handle client specific pension issues for new clients at low costs. Both companies experienced flexibility in CostPerform.
How CostPerform helps


finance companies
See cause and effect relationships with the CostPerform calculations 
Make reports on several levers: per client, per sales manager, et cetera
Collect data for exclusive analysis on where to improve the performance
The software monitors and reduces the costs whenever it is possible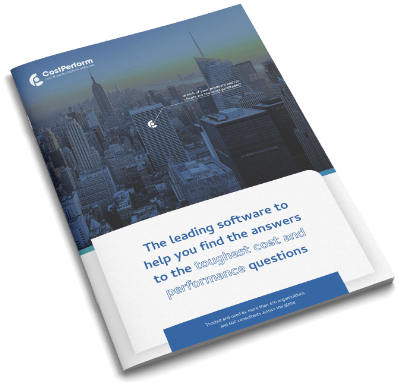 Discover what CostPerform can do for your organization