Today we're active in the following markets
Government agencies in the US, UK, the Netherlands, all government agencies in Dubai and more than 200 other organizations worldwide use CostPerform for TBM and cost-price calculations to determine price lists, ensure funding and for other purposes.
Thanks to our ability to handle the extreme complexity of network costing, LRIC (Long Run Incremental Costs) and other telecom-specific challenges, CostPerform has become the current market leader in telecom costing. Today, more than 20 telecom companies use CostPerform for regulatory and business economic purposes.
From insurance companies and merchant banks to central banks: CostPerform is used by financial institutions to determine profitability, report to regulators and to simulate future business models.
In the early days of CostPerform, our software platform was in high demand in the hospital sector. Building on that base we now serve customers throughout every area in the healthcare sector.
With the increasing popularity of TBM, our number of IT clients (15) is growing fast, both in the private and government sector. CostPerform is their product of choice to run IT as a business.
Manufacturing & Logistics
Our clients (40 and counting) in these markets use CostPerform for operational cost and capacity management, variance analysis, contract management, cost-to-serve and other purposes.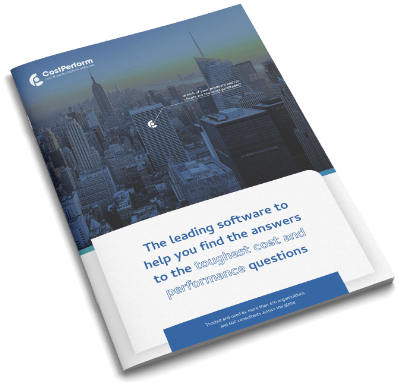 Discover what CostPerform can do for your organization