Cost and performance solutions for Governments worldwide 
Government agencies in the US, UK, the Netherlands, all government agencies in Dubai and more than 200 other organizations worldwide use CostPerform for TBM and cost-price calculations to determine price lists, ensure funding and for other purposes.

The US Navy Recruiting Command designed their own model in six months
With the software of CostPerform, the US Navy Recruiting Command designed a supply chain model that integrates total and unit cost of processes, capacity relationships (ratios of recruiters, processors, regional support and headquarter overhead to recruits), and attrition rates. The recruitment model will be used as a planning model and as a stage to drive Lean Six Sigma projects and pilot studies across the 26 Navy Recruiting Districts (NRDs).
In six months the US Navy Recruiting Command completed the model. The model consists of the over 52,000 recruits who fall into different classes, all of which are comprised of variations in processes and costs. Two models were designed – a historical model which can be updated each year, and a planning model which forecasts for the next year.
New ABC/M model for the US Government
The software of CostPerform has helped the Federal Student Aid, an office of the US Department of Education, with an Activity-Based Costing and Management (ABC/M) model. That cost model developed unit costs of processes and services delivered as part of the General Accounting Office requirements for a performance-based organization (PBO). The ABC model serves as the source for cost data, a platform on which to monitor key financial performance indicators and an input for the Presidents Management Agenda (performance management) requirements. Despite the challenges of model conversion, redesign and rollout took 5 months; developed clear and measurable total and unit costs of processes associated with each FSA loan program including origination, servicing, liquidation, and the various direct and indirect costs that comprise these processes.
The software of Costperform is also used by the U.S. General Services Administration and is certified and accredited by the Department of Homeland Security (DHS) and also for the Navy/Marine Corps Intranet (NMCI). 
How CostPerform helps


Governments
You can make various analysis to optimize cost and performance 
Design your own Activity-Based Costing and Management model
Calculate your budget, actuals and forecasts. See where spikes occur or might occur
Use the Technology Business Management (TBM) tool in the software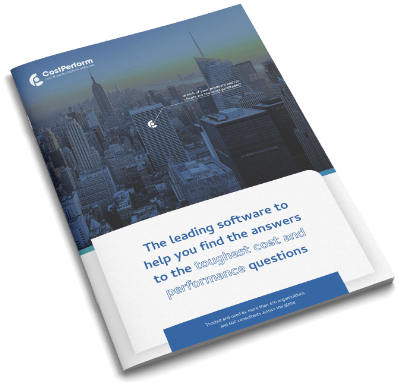 Discover what CostPerform can do for your organization