Cost & performance software for IT Service companies worldwide
With the increasing popularity of TBM, our number of IT clients (15) is growing fast, both in the private and government sector. CostPerform is their product of choice to run IT as a business.
Technology is no longer only supporting the business, technology has become an essential cornerstone for virtually any organization. With its ever increasing role and importance, the need to manage that role differently has increased as well. Many organizations have been struggling with the way technology has been managed. With the introduction of TBM (Technology Business Management) business and technology leaders now have a way to jointly manage technology spending for both running and growing the business.
TBM provides a framework for understanding the relationships between the business and the level of technology spending. CostPerform offers you the needed financial and operational tooling to implement the TBM framework within your organization. Find out how 450+ companies have improved their financial discipline by using CostPerform.
Connect your IT-model to your business model
Instead of IT Services defining its catalogue, it is now the business that drives the services coming from IT. And with the right linkage between the business and IT, these volume-based drivers extend towards something far more sophisticated than a simple products and services catalogue. By continuously improving this linkage, the integration of IT within the business becomes almost seamless. In CostPerform you can literally and physically link your IT-model with the Business Models, where output of the IT model is input for the business models. Reversely, changes in the business models, will automatically result in changes in your IT Services model.
How CostPerform helps


IT Service companies
Create frameworks that show the relationship between IT Services and business
Changes in the business model automatically implement in the IT-model
Compare differences in periods of time, for example between Q1 and Q2
Be in control of your projected cost because of insights in workflow processes
A selection of our clients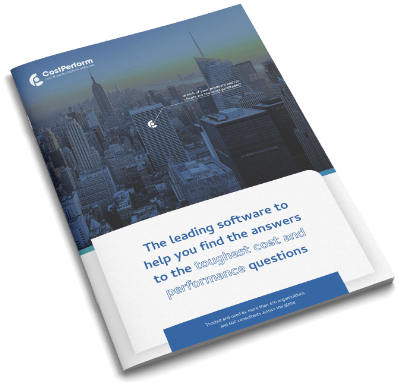 Discover what CostPerform can do for your organization